Lambda Pi Eta

The original chapter of this organization began at the University of Arkansas in 1985 under the direction of Dr. Steve Smith and subsequently it was chartered into a national organization, which received the official sanction of the National Communication Association. The name, Lambda Pi Eta, represents the first letters in Greek of the three types of proofs that Aristotle presented in his teaching and writing in Rhetoric: Logos (Lambda), Pathos (Pi), and Ethos (Eta). Currently, Lambda Pi Eta has over 500 active chapter affiliates worldwide. If you have a strong academic record, you may be invited to join the University's chapter of Lambda Pi Eta, the National Communication Honor Society.
You may qualify for our chapter if you meet all of the following qualifications:
Completed 60 semester credit-hours with a minimum cumulative 3.0 GPA
Completed 12 semester credit-hours in communication studies with a minimum 3.25 GPA
The purposes of the Communication Honor Society are as follows:
To recognize, foster, and reward outstanding scholastic achievement in communication studies
To stimulate interest in the field of communication
To promote and encourage professional development among communication majors
To provide an opportunity to discuss and exchange ideas in the field of communication
To establish and maintain closer relationships and mutual understanding between speech communication studies faculty and students
To explore options for graduate education in communication studies
For additional information, contact Dr. T. Jake Dionne, who can also put you in contact with one of the chapter's student officers.
The University of Arkansas as the 2014 Chapter of the Year
Historical Marker
In November of 2019, the department celebrated LPH's historical roots at the University of Arkansas by placing a marker in front of Kimpel Hall and hosting a dedication ceremony.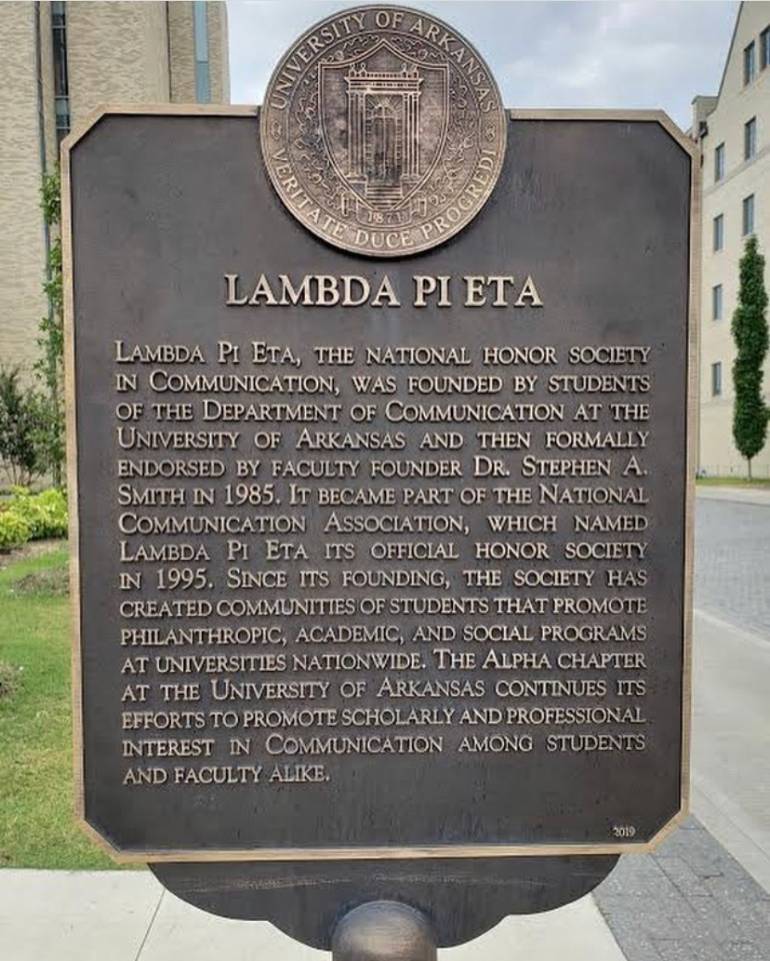 ---
Events
The Alpha Chapter has sponsored distinguished lectures, hosted social events, and raised funds for students to present research at regional and national conferences. "Float through Finals" is a traditional event, during which members hand out ice cream floats.
---
Stay connected to COMMUNICATION
Department of Communication
University of Arkansas
417 Kimpel Hall
Fayetteville AR 72701
Phone: 479-575-3046
Fax: 479-575-6734